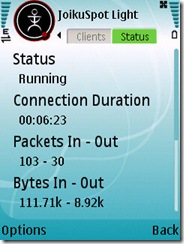 JoikuSpot is a software to share your phone's Internet connection via WIFI. It turns your S60 3rd edition device into a hotspot. The premium version of the software allows you to use any connection, while the Light version only allows you to use web (HTTP) connection. This is not a new software, but I only start using it few days ago since I got my unlimited EDGE/GPRS connection.
I have an iPod touch, and this software is a perfect companion for it, just like they said on their marketing page: Nokia s60 3rd edition phone + JoikuSpot + iPod touch = iPhone. I am still considering whether to buy the full version or not.
Compared to data cable, sharing Internet connection using JoikuSpot is much nicer. Compared to bluetooth, I think JoikuSpot uses more battery power. Unless you want to share one phone connection to several devices/computers, I think Bluetooth is more than enough for Internet sharing for most people.
You can download JoikuSpot from http://www.joikuspot.com/